New Year's 2010 Newsletter
Happy New Year!
Kids First, Inc. would like to wish you a safe, happy, and healthy 2010! If your New Year's Resolutions included promises to be more active and involved in your community, please read on to find many opportunities to assist abused children in our area.
An International Ambassador: Dr. Brown carries greetings from Kids First to Korea!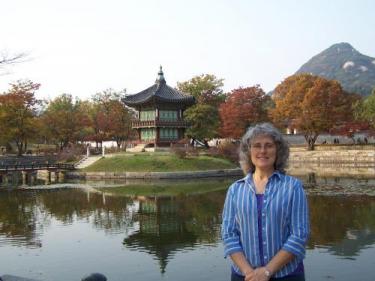 We cannot say enough about what a wonderful addition Dr. Jennifer Brown has been to our staff. With over 20 years of experience in medical examinations of child abuse, she brings not only expertise but also an invaluable service to our center: the ability to provide medical evaluations in a child-friendly, supportive environment. Dr. Brown also offers trainings throughout the community in recognizing and preventing child abuse. Although it's clear that we appreciate Dr. Brown as a treasured resource, imagine our surprise this fall when we learned that she would be conducting training internationally! While making plans for her mother to visit her in Korea, where she teaches English in a private school, Dr. Brown's oldest daughter couldn't help bragging to people about her mother's work in child abuse prevention. Quickly, plans fell together for Dr. Brown to provide trainings and discussions with Korean child abuse professionals! During a week-long trip to Seoul in October, Dr. Brown met and presented to the Korean National Child Protection Agency, to a group of doctors and community child abuse professionals at St. Mary's Hospital in Seoul, and to Pediatric Grand Rounds at Yonsei University College of Medicine, the country's leading teaching hospital! With the help of translators, Dr. Brown was able to learn that, despite our cultural differences, we face many of the same challenges as Korea in our attempts to prevent and treat child abuse.

Dr. Brown summed up her trip to Korea by saying, "I will treasure the gift of the amazing privilege of seeing this part of Korea, and of meeting so many warm and caring professionals fighting for children to live safely, just as we do. We may live half a world away, but we are truly more alike than different." Kids First is so proud of Dr. Brown's stewardship!
To learn more about Dr. Brown's services at Kids First, click here to visit our website
A warm thank-you to generous local donors
On behalf of the children we serve, Kids First would like to thank Dr. Timothy Tolson of Albemarle Allergy & Asthma and Dr. Barbara Sawyer of Albemarle Behavioral Medicine for their generous donation of $5,000 during the Christmas season! Drs. Tolson and Sawyer have been wonderful supporters of Kids First over the years, committed to helping abused children in our community receive the services they need in order to overcome trauma that no child should have to experience.

Local support sends the message that we are not turning away from the reality of child abuse, but are willing to face the problem with resolve, caring for those children who have no power to care for themselves.

You can become a supporter of Kids First at any level, from $1 a month to $1,000 a month. Every single donation counts in a child's life at our center. Please consider making a commitment to Kids First as a one-time or an ongoing donor. Check out our website or call to get a closer look at what we do here every day for the children in our community. Let us know you're interested in hearing one of Dr. Brown's presentations so we can share the schedule with you. Lots is happening here and you can be a part of it!
Help us to Celebrate Kids First!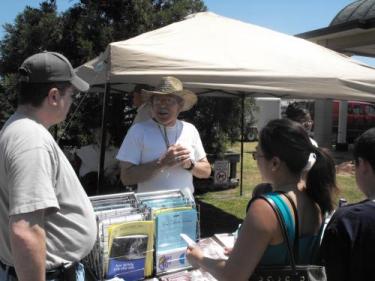 The date is set for our second annual Celebrate! Kids First event, coming up on Saturday, April 17th at Waterfront Park in Elizabeth City. This event is an opportunity to celebrate the happy endings that we see at Kids First, as well as to allow all attendees to be "a kid for a day" with games, bounce houses, and live entertainment. We host this event during Child Abuse Prevention Month, and distribute educational materials on internet safety, recognizing and reporting abuse, positive parenting skills, and more. There are numerous ways for members of the community to support this event: we are seeking business sponsors, who will benefit from inclusion in a multimedia marketing campaign; volunteers to assist with food sales and activities; and organizations to host activities at the event. If you are interested in helping out this year, please contact Courtney Cottrell at Kids First at 338-5658, or e-mail her at ccottrell@net-change.com . We hope you can Celebrate! with us this April!
For more information on Celebrate Kids First, click here to visit our website
Needed: Local businesses to "Join Hands to Protect Children"
April is Child Abuse Prevention Month, and an important time for the community to bind together to raise awareness and support of child abuse in our area. Most community members that we speak with are shocked to learn just how prevalent abuse is, not just in the United States but right here in our counties. Kids First serves hundreds of victims of child abuse in Northeastern North Carolina each year, providing medical examinations, fact-finding interviews to aid in the investigative process, therapy to promote healing, and advocacy throughout the court process.

This April, we are asking local businesses to "Join Hands" to protect abused children during Child Abuse Prevention Month by selling and displaying paper hands in their locations. Participating businesses will gain recognition in a promotional media campaign highlighting their support of child abuse prevention. If you would like to become involved in this campaign, please contact Courtney Cottrell at Kids First at 338-5658, or e-mail her at ccottrell@net-change.com . Thank you for your support!
Thank you for your ongoing support,

Kids First, Inc.
Document Actions