Holiday 2009 Newsletter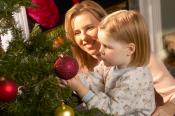 Seasons greetings from all of us here at Kids First, Inc.! We are excited to relaunch our newsletters in order to keep in touch with all of you. For those of you previously unfamiliar with Kids First, we invite you to visit our newly-launched website at www.kidsfirstinc.org to learn more about our center 's history and our mission to serve abused children in our community. We encourage you to check back often (or subscribe to our RSS feed from our site) to view center news, upcoming events, and new ways to assist us in our mission.
We ask all of you to remember the children this holiday season, and to brighten a child's holiday in any way you can. Best wishes for a safe and joyous holiday season!
Cosmopolitan Club Plays Santa for Abused Children!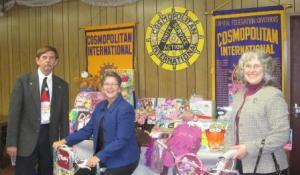 The Cosmopolitan Club of Elizabeth City has been on a shopping spree for three children who receive services at Kids First! The Club members provided each child with toys, clothes (including new pajamas to wear on Christmas morning), and.... bicycles! What a joy this will be for these children, all of whom came out of abusive homes, have been in therapy, and are doing SO well with their new families. Our hearts are about to burst with gratitude for these wonderful people who are giving so compassionately to children they will never personally get to see or know, and we know how grateful these families are to be able to provide a special Christmas to these special children.
Shown: Charles Lane (left), Cosmopolitan Club President, allows Kids First Executive Director Rhonda Morris (middle) to test out a child's bicycle while Mecical Director Dr. Jennifer Brown (right) supervises.
Wachovia Community Partners Give Back!
On December 3rd, Kids First Executive Director Rhonda Morris attended a community breakfast at our local Wachovia Bank. At this breakfast, on behalf of the Wachovia Community Partners program, Lee Watson presented Rhonda with a donation check of $1,000! These funds are deeply appreciated and will contribute to the healing opportunities Kids First provides to abused and neglected children throughout northeastern North Carolina. Our deepest thanks to Wachovia for supporting nonprofit organizations in our community!
You Can Donate to Kids First Without Spending Another Dime!
Do you plan to do some of your Christmas shopping online? Use your online shopping for good by visiting www.igive.com. Through IGive, hundreds of popular online retailers donate a portion of your purchase price to worthy charities such as Kids First. All you need to do is register through IGive and choose "Kids First, Inc. Child Advocacy Center" as your designated charity. Participating retailers include Amazon, EBay, Apple/ITunes, Babies 'R Us and Toys 'R Us, Best Buy, Barnes & Noble, and hundreds more.
More of a web searcher than a web shopper? Go to www.isearch.igive.com to install the IGive search toolbar, which will donate 2¢ each time you search the web. It may not seem like much, but these small donations add up to make a big difference! Please sign up today!

Questions on how you can become involved? Contact Kids First at (252)338-5658.
Visit us on the web at www.kidsfirstinc.org
Document Actions